Insight360 by Analytix to present at this year's Fast Casual Executive Summit 2023
by Analytix Editorial Team
September 26, 2023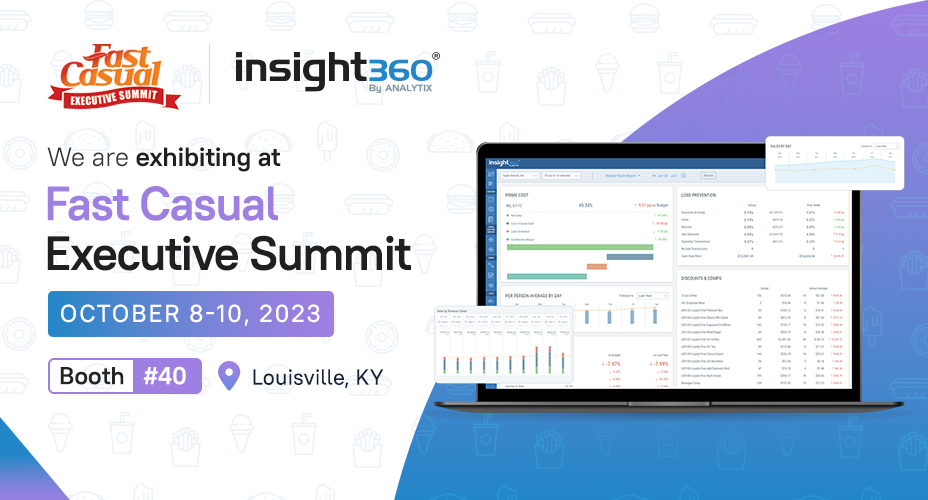 We are delighted to announce that Insight360 – the game-changing SaaS platform that is revolutionizing data management for the restaurant franchise industry – will exhibit at this year's FAST CASUAL EXECUTIVE SUMMIT on October 8th. The exclusive event will host top-level restaurant executives, leaders, and innovators of the fast casual industry.
Nate Burnes, VP of Insight360, will be on hand to showcase the platform and how it's helping franchise owners across the US, manage the data from multi-locations and multiple data sources.
Insight360 efficiently manages back-office tasks and lets owners focus on driving success without being weighed down by daily operations. The intuitive platform brings together 3 integral components, each one customizable to meet specific needs:
Real-time access to pivotal performance metrics,
Efficient productivity tools,
Crucial accounting services.
What makes Insight360 unique is its streamlined dashboard feature, which displays all insights in one place. Restaurant and franchise owners have quick and easy access to the detail they need, through this powerful platform that not only organizes and presents the data, but translates it into actionable business insights to drive operational efficiency and profitability.
Insight360 by Analytix is happy to support the Fast Casual Executive Summit and join in bringing together restaurant industry pioneers for innovative discussions and invaluable networking.
Join us at the summit to explore how Insight360 can redefine your restaurant franchise business.
For reservations, please visit https://fastcasualsummit.com/venue/
We eagerly anticipate your attendance at the summit.
Insight360 by Analytix sales@analytix.com | 781-503-9013
For more information on Insight360, visit us at https://insight360.analytix.com.
Discover a New
Level of Insights
Elevate your business with our free demo and discover the transformative potential of our product.